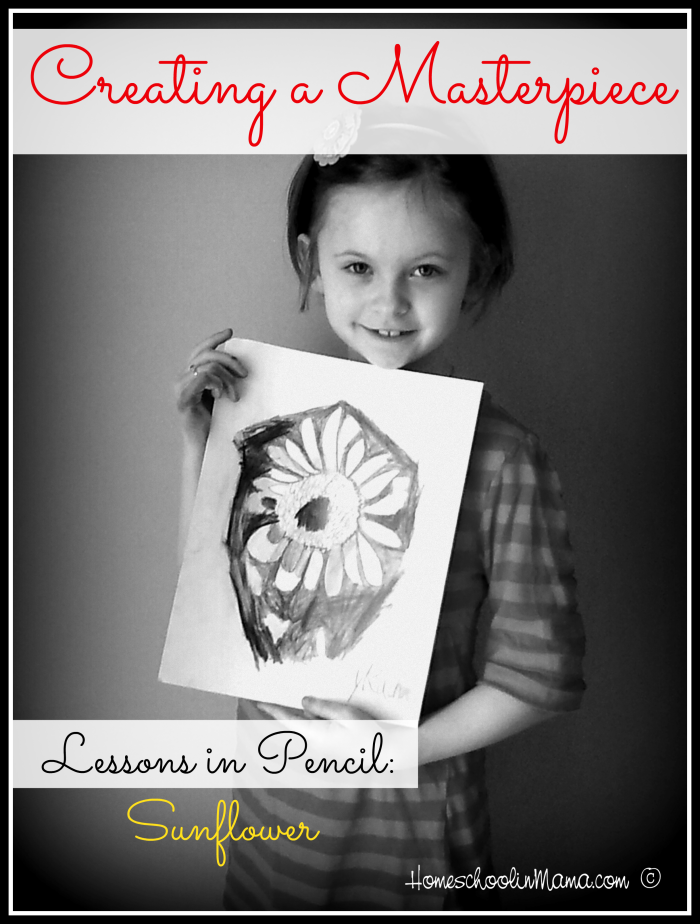 So you all know I don't have no artistic bone in my body at all!  I am a jellyfish when it comes to art or anything crafty and creative.  So I love to review Art Courses because I truly have no idea what my girls learning styles may be in this area.
Recently my little chix and I had the priveledge of using Lessons in Pencil: Sunflower from Creating a Masterpiece.  My oldest (Roo) is only 7yo so beginning with pencil sketching seemed just right for her.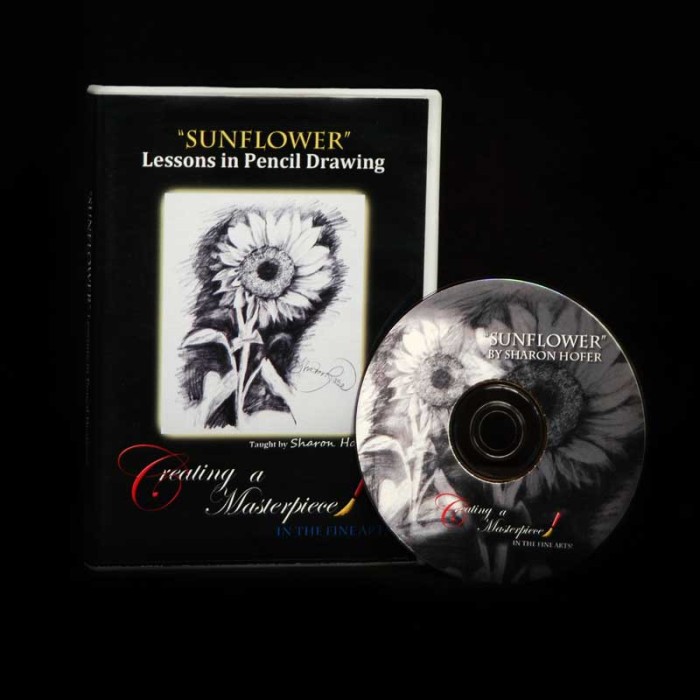 I will admit that when we first started these lessons I was more than a little nervous that I had chosen something way too advanced for Roo.  I truly know so little about art and it does actually make me a little nervous to teach her even a little bit.  But then I started watch my Roo paying close attention to what Sharon Hofer was telling her.  Once she sat down to sketch her first shell I knew this course would be an excellent fit!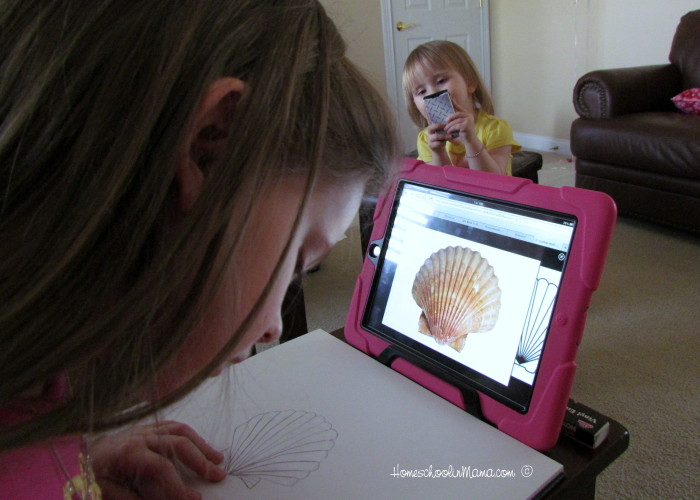 With the shell Roo began looking at how the lines really were on the shell: not straight up and down but tapered to the bottom center.  Sharon took her through the steps to see how the edges are slightly scalloped and not exagerated.  I was amazed at how quickly Roo really understood how important it was to keep each line proportioned correctly.
Roo must have practiced that shell I don't know how many times.  In fact I have since then noticed her just "doodling" her little shells.   It makes this Mama's heart so happy to see her actually wanting to drawing on a daily basis now.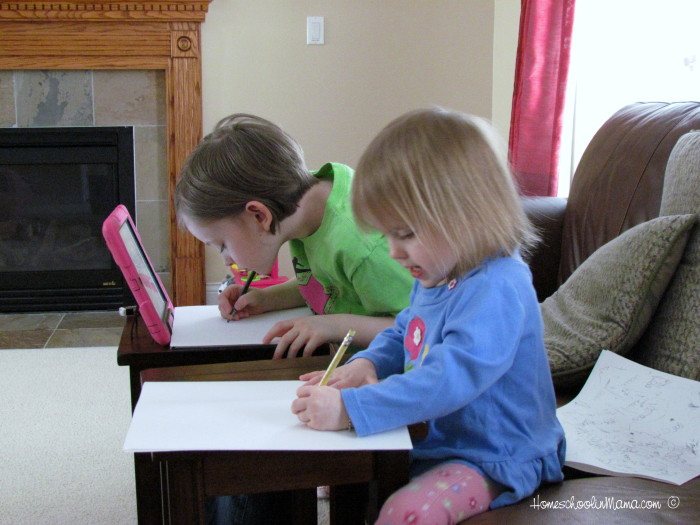 Sharon took Roo through several stages of sketching: a sea shell, a rooster, shading, and the final drawing of a sunflower.  Now, I think that the sunflower is a pretty complicated thing to sketch BUT I don't like to hold her back – she is always surprising me.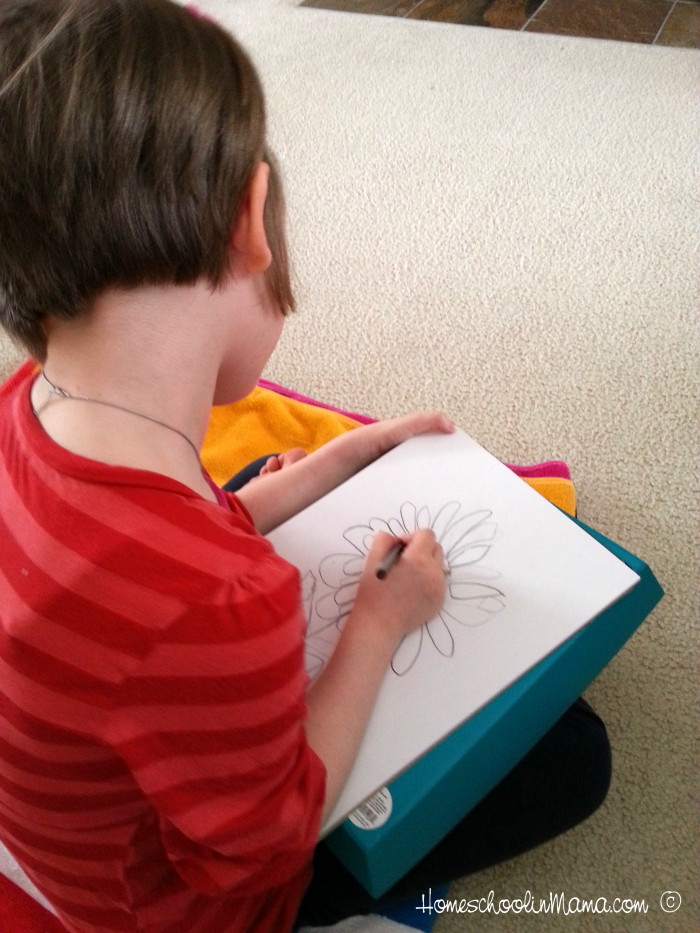 My proud Roo showing off her first ever sunflower sketch!  The moment she was done she asked me when she could do it all again.  She has become quite the little art critique now and has decided she knows she could so much better!  I love listening to her new passion for sketching thanks to Sharon Hofer and Creating a Masterpiece!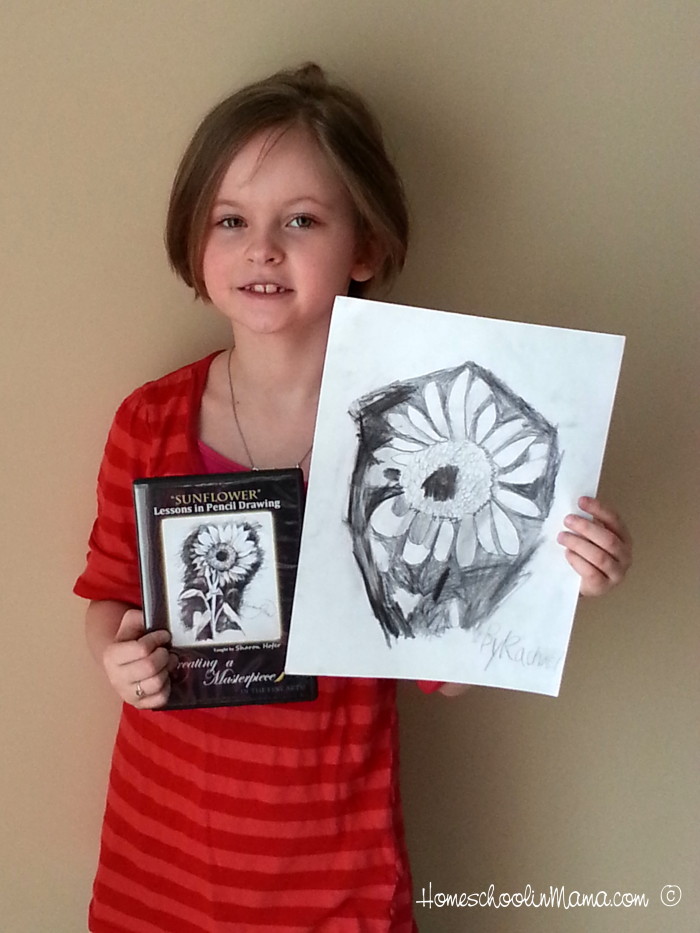 I just can not tell you how much I appreciate these art courses.  Roo has always liked coloring but this course has made her feel like she is an artist – which is something I could have never given her.  Sharon Hofer "came into our home" through a DVD and taught my daughter the beginning steps to sketching.  But more importantly she gave my daughter a new passion and love for art!  Roo is now looking at everything and wondering how she would sketch it!
You can find this art course at Creating a Masterpiece:  Website ~ Facebook ~ YouTube ~ Pinterest  This course only runs $35.00 with very minimal supplies that you will need to purchase:  #2 pencil * #6b pencil * A large piece of Drawing paper * a stiff-bristled brush * a tortillon.
But you could enter to win this same course right here on Homeschoolin' Mama!  Just follow the prompts on the Rafflecopter widget to enter!
Love Life, Love God, Live For HIM…
I was given this art course for free and in return I have given my honest opinions about it.  Yes, I have used my family as guinea pigs to do this.  All opinions are my own (and my families) and are not swayed in any way.   If you would like to read more on Homeschoolin' Mama's policies please go to my 
Site Policy
 page – Thank you.