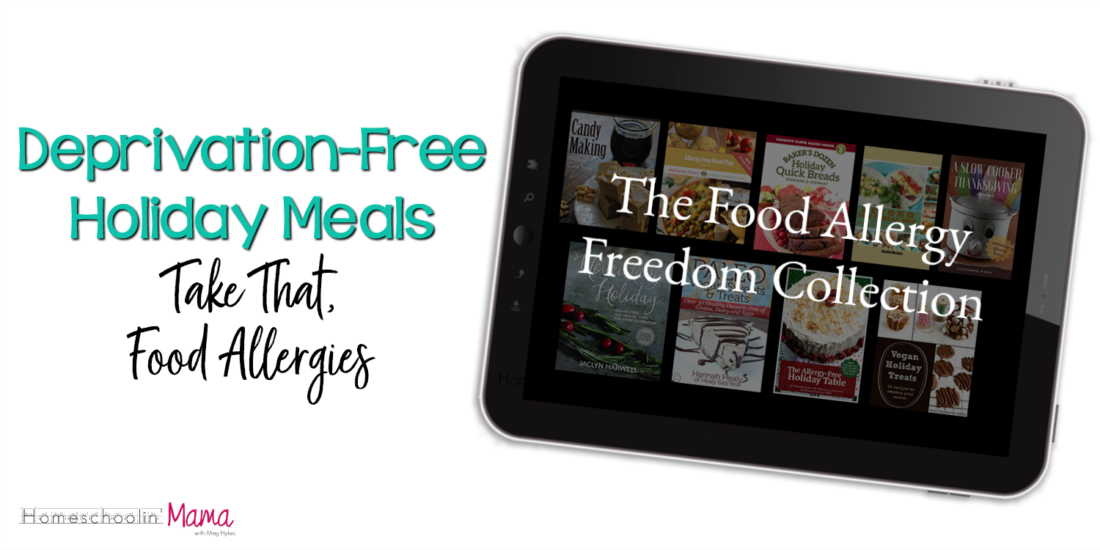 Deprivation-Free Holiday Meals (Take That, Food Allergies)
The Holidays are all about getting together with friends and family.  Sharing old stories and making new ones.  Playing games and exchanging gifts.  All it this happens around some serious delicious food right?!  For some, the food part is what they dread.  Or maybe even have a fear of – the food allergies.
I've been fortunate so far that no one in my immediate family has a food allergy.  But we do have a very close family friend whose youngest daughter has a peanut/tree nut allergy.  This past Summer I had the privilege of watching her and her sister in my home and for the first time ever I had a small taste of what families with food allergies are dealing with on a daily basis.
Checking the ingredients on EVERYTHING.  Making sure my counters were completely clean and free of contaminants.  Keeping our foods away from hers.  Just to name a few.
That's why I'm so excited to tell you about the Food Allergy Freedom Collection.
Put together by my friends at Ultimate Bundles, it includes 280 tried-and-true holiday recipes, including:
Cakes, cookies, pies and candies that follow a Top 8 Allergen-Free diet
30 deliciously decadent yet healthy desserts free of grains, dairy and eggs
A guide for preparing home-made candy with unrefined sweeteners (and not a drop of corn syrup)
32 gluten-free holiday recipes your crockpot can cook for you
Classic recipes like pumpkin pie, turkey gravy, and even dinner rolls focusing on GAPS diet, primal, and paleo foods
A 4-week meal plan, including desserts and snacks, free of (or with alternatives for) egg, dairy, wheat, fish, peanuts, tree nuts, fish, and shellfish
13 recipes for fresh-baked, grain-freebread made with coconut flour
And much more!
Click here to get your Food Allergy Freedom Collection.
Whether you need to avoid gluten, dairy, eggs, nuts, grains, refined sugars, OR you eat paleo, GAPS, vegan or even AIP, you'll find something to chow down on with these delicious, deprivation-free recipes.
Normally, you would have to spend over $110 to get the 9 eCookbooks in this collection.
But until tomorrow (Tuesday) at 11:59pm Eastern Time, you can get it on a pay-what-you-want basis.
Seriously — it's a chance to save big while making sure you won't be scrambling for recipes that work this holiday season!
And if you choose to pay $20 or more, you'll also get a bonus eCourse full of tips for cooking around major food allergens, so you can transform your favorite family recipes to make them allergy-friendly (worth $40 by itself!).
Plus the bundle is backed 100% with a 30-Day Happiness Guarantee.
So why wait?
Click here to get the Food Allergy Freedom Collection.
I know I will be using this bundle to create some fun with with my little peanut/tree nut free girlie!  She's deserves to have fun in the kitchen with those yummy recipes and traditions!
P.S. Remember, this 48-hour package is only available until tomorrow, at 11:59pm Eastern Time. So if you want it, you need to get it soon.