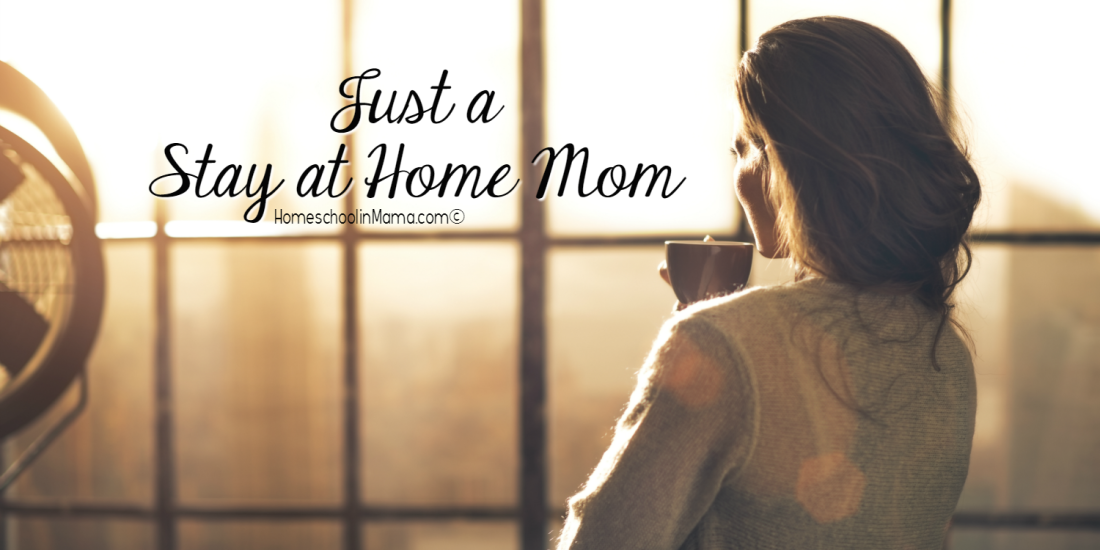 Just a Stay at Home Mom
"I'm not raising my daughter to be lazy.  She is going to be motivated.  She is going to go to college.  She is NOT going to be just some stay at home mom who is totally dependent on her man.  She's going to be strong.  She's going to be like ME!"
These were literally the words that a friend of mine (a woman I have been friends with for the past 3 years) said while we were walking one night at our girls dance studio.  The conversation started out like many others.  We are dance moms and spend most (if not all) of our evenings at the studio while our daughters practice for competitions and recitals.  We walk because we are at the studio 3-4 hours a night and well we can't possibly sit there for that long.  But it's also a great time to work through our days discussing all that has happened.
Most days this is a fantastic stress relief.  But not this day.
On this day I found myself in the middle of two ladies who were not afraid to share their true feelings about stay at home moms.  Two women that cut me to the bone with their words and I had no idea what to say.  I had absolutely no words for them.  Who was I to tell them that their view of a stay at home mom was hurtful and wrong?
I'm Just a Stay at Home Mom
The more I have thought about this I was upset with myself for not saying a word.  At the time so many thoughts were running through my head (and not one of them should have passed through my lips) that I didn't have time for my mouth to catch up.  But allow me to take the time, after much prayer, to share my thoughts on this.
Lazy = Staying at Home – I'm sure you could make the case that there are "lazy stay at home mom's" and I'm not going to lie – some days that sounds fantastic.  But can you really?  When you're home with your kids you are on the move.  You are cooking, cleaning, running errands, and in our case teaching.  You are engaging with your kids and putting value on your relationship with them.  You are showing them that they are worth your time, attention and affection.  I fail to see how this is lazy.  This is a full time gig.
Just a Stay at Home Mom – Since when is staying home with your kids "just" anything?  I was married and worked full time in my career for 10 years before I had my first child.  I know what it takes to have a career and I know what it takes to stay home with my girls.  Staying home is anything but "just".  My job was just a job.  Staying home and raising my girls is everything!
Depending On Your Man – YES I depend on my man!  I'm not ashamed to say it because that is what I believe a marriage is supposed to be.  Two people who depend on each other (and he will tell you he does depend on me as well).  It's a partnership.  Two people coming together as one.  So yes, I do depend on my man and he depends on me.  Not seeing the negative here.
A Strong Woman – I'm just going to say this.  Raising your children full time is not for the weak.
Be Like Me – We all have days when we wish our kids were like us.  But then we have days where you see them doing something that we don't like about ourselves and you change your mind.  I have always said I wanted my girls to be like me but better.  I want them to walk away with my good qualities and improve upon them.  So I get where she was coming from to a point.  But I certainly don't want little clones running around either.  I want to see their personalities shining through!
Now let me make this clear.  I am in no way saying that I am a better mother or stronger woman because I have chosen to stay at home with my girls.  I am fully aware that many women are not able to stay at home even if they'd like to.  I get that – truly I do.  I feel for the hurt your hearts are going through, really.  Maybe that's the real reason this conversation even happened.  Maybe a hurting heart was truly doing the talking.  I may never know.
But I do know this, the stereo type that a woman who chooses to stay home with her kids is lazy – needs to stop.  It is only hurting our girls.  They are hearing this.  They are hearing that this decision, the decision to "put your life on hold" for your family is lazy.  Our girls are hearing that raising your family is putting your life on hold – that they will have no life.
I don't know about you but raising my girls has been the greatest adventure of my life.  Sure I had fun before kids.  But being home with them and seeing them grow into the amazing young ladies they are so far is worth stepping away from work – it's just a job.  My girls are everything.  We have made many (what the world calls) sacrifices for me to be able to stay home.  We had only one car up until 3 years ago.  We don't take fancy vacations. I see it as a choice that needed to be made and we made it.  Not because I'm lazy and wanted to just lie around on the sofa all day.  Although that does sound like a nice afternoon.  But because that's what was important to me.  Staying home is what I felt God was calling me to do.
We need to make sure our daughters know that choosing to stay home is not the easy or lazy decision.  It takes a strong and motivated woman to stay home and raise her kids.
Love Life, Love God, Live For HIM…