This week was a disappointing week for me as far as my weight loss goes.  Continue reading with this warning: I am fairly crabby about how my week went!  Okay, continue if you feel you can!
My diet/nutrition this week was…
Um – it was awesome!  Just how it has been except I spoke too soon last week when I said my cravings were gone.  I wanted junk food ALL week!!!  But I didn't cave and I am so very proud of myself for that!
I burned calories by…
Yah – I did nothing!  I know I'm a slacker but it's the truth – I did nothing this week to burn the fat!
My weigh-in/measurements this week are…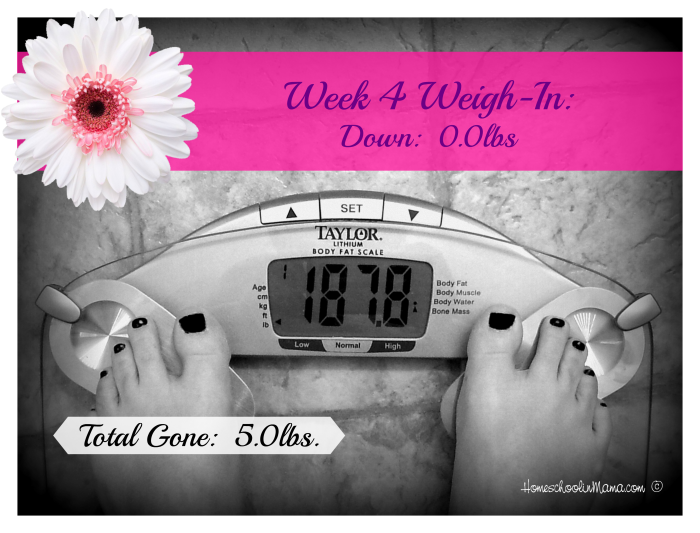 My greatest accomplishment was…
That I made it to the end of this week!  Seriously it was one long week – it felt like a month!
The hardest thing for me to tackle was…
Time management.  At one time in my life I was really fabulous at this but now – not so much!
My favorite healthy recipe…
P.F. Changs Lettuce Wraps!  I found this recipe online and oh my goodness – AMAZING!!!  If you can't make it to the restaurant this will totally work for you!
Goals and plan for next week…
Actually work out!  Please – someone send me a wake up text or call and make me get my tushy up and out of bed and burnin' some fat!
Okay, thanks for reading my little rant on my week!  I hope this is the only one I ever post telling you I have not lost any weight!!!
Love Life, Love God, Live For HIM…
This page has affiliate links.  I appreciate any use of these links in supporting our homeschool.  To find out all about my affiliate policy please go to my 
Site Policy
 page – Thank you.
This is a sponsored post as part of the Shaklee Corporation blogger program. I have received free products, online support, and incentives for participating. My opinions are my own.  People following the weight-loss portion of the Shaklee 180™ Program can expect to lose 1-2 pounds per week.