The links in this post contains affiliate links and I will receive a small commission if you make a purchase after clicking on my link.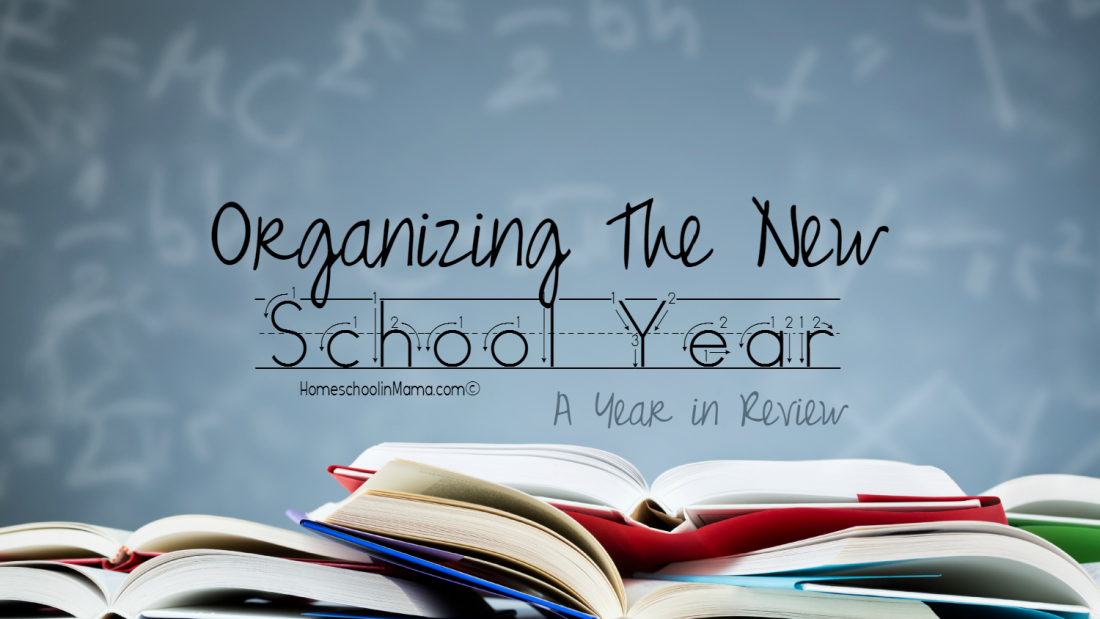 Organizing The New School Year – A Year In Review
Let's jump right in!  How do you begin organizing a new homeschool year?  By reviewing your previous homeschool year!
You know when you're finally finished with the year and you're cleaning out the school room shelves – boxing them up to store for the younger kiddos or possibly sell or donate the books?  This is when you sit down with your kids and review the year you just finished.  ALL of you – sit together and discuss what you liked and what you didn't like.  What was a struggle?  What made you laugh?  What made you dizzy?  What can't you imagine school time without next year?
It's important to do this as a family.  You as the Mom may have just loved that Saxon Math or Sonlight Readers.  But maybe they frustrated your child or they snoozed through it when you weren't looking.  The beauty of homeschooling is your children can be apart of their education process.  Plus, I've found that this has helped my girls get even more excited for the new year because THEY helped decided what they would be learning.  Even though I am ultimately guiding this process, they feel very much apart of it all!
So, get your boxes ready and start sorting.  Have your kids recall each book or workbook they used.  Ask them to review it:
What was their greatest highlight from it?
Did they have fun using it?
What did they like least about it?
Would they want to use it again?
For each subject have them write a short review after discussing their thoughts with you.  Then decide if this is something they would want to use again.
Now it's your turn Mom!  Ask yourself the same questions.  Even discuss this with your kids so they can also here points as well.  Then write down your review and decide if you would want to use it again as well.
There you go!  Your school room is packed up and your reviews are in.  You've just taken your first step towards organizing your new school year!
Below you'll find a few free printables to help you review your homeschool year.  Print them out.  Review away.  Then save them and use them in the years to come.  You'll be thankful you did!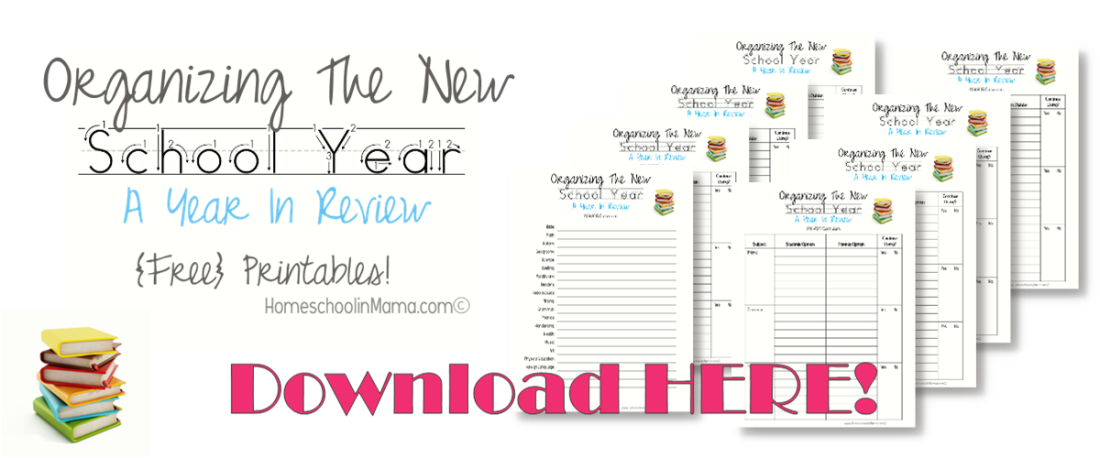 Join me Monday as I share about Choosing the Right Curriculum for your family.  Be sure to subscribe so you don't miss any of these upcoming articles:  Subscribe to HomeschoolinMama.com
Love Life, Love God, Live For HIM…