Organizing The New Homeschool Year
Homeschool Room Prep
So far in this series we've covered:
Now we're on to – Homeschool Room Prep!
If you follow me on Facebook or Instagram, you know what an absolute disaster our homeschool room is at the moment. It some how becomes a total catch all the moment we aren't using it daily. We will be changing it up this summer, but we have to get the oldest college ready first. My brain can only take so many changes at one time.
In the mean time, here are a few tips that I use to get our homeschool room all prepped and ready for the new year!
Designate and organize your shelves.
Decide which section of shelves are for which child.
Organize each child's books by subject and then the order you will need them.
Label away! I print out my subject labels (free download below) on card stock, laminate, cut out, and then use poster putty to attach on shelves.
Supplies! You're going to need supplies!
As you're working on your lesson plans keep a running list of resources/supplies you will need.
In the download below you can organize it by subject, resource/supply and date needed. Supply check off or cross out as you acquire the item.
Planning one month at a time helps you with your budget for school supplies.
Have some fun – Decorate!
Homeschool = Fun School! Start with your school room. Learning is supposed to be fun. Keep it bright, colorful and cheerful.
I have a download for our subscribers, that I hope will help you in your school room prep time. I've included labels for your shelves and a resource/supply list for you.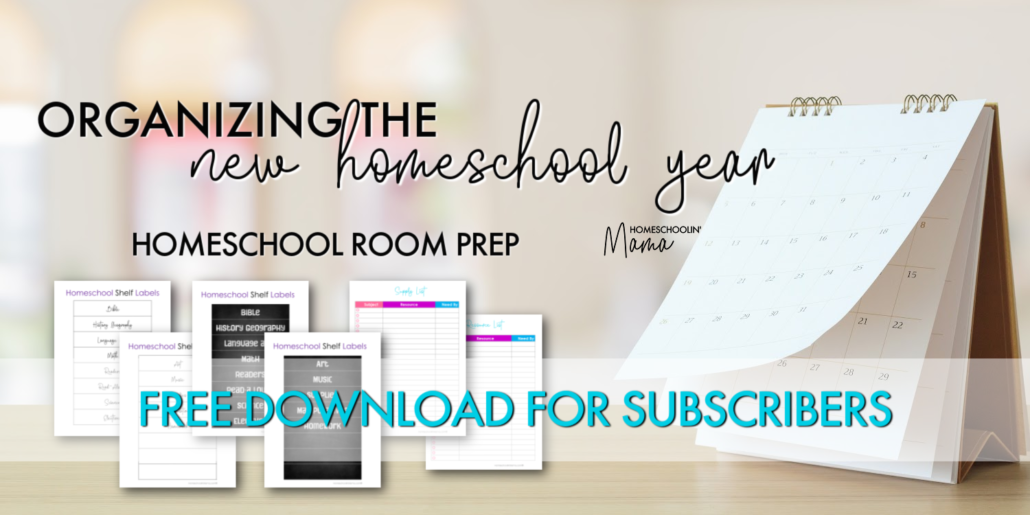 Join me Monday as I talk about planning the extras in. Plus – check out the entire series here. Be sure to subscribe so you don't miss any of these upcoming articles: Subscribe to HomeschoolinMama.com
Love Life, Love God, Live For HIM…