Organizing The New School Year
Lesson Planning
So far in this series we've covered:
Now we're on to – Lesson Planning!
This just might be my FAVORITE time of year. Seriously, sitting there with your clean planner and all of the amazing possibilities the year has in store for you and your kiddos! But then you have those times that those blank pages are just screaming at you NOW WHAT!? So for those times let's talk about our basic steps to planning a fabulous learning experience for your kids – tailored just for them!
Decide your basic layout for your year.
Are you going to follow the same schedule as your local public schools?
What holidays are you going to take off? In our house, birthdays are holidays too. Those are always planned "off" days for lunch, shopping and occasionally mani-pedis.
Will you have a spring break? When will that be?
How many days are you legally required to formally teach your child? Check out the awesome HSLDA has for each state.
Layout your daily schedule.
What subjects do you want your child to study at what time?
If you have multiple kids, how will you layout each child's subjects so they are both learning at the same time?
How much time does each child need for each subject? They probably won't be the same amount of time for each one.
Plan one month at a time.
Do you have any extra's you need to incorporate that month? Field Trips, unit study for holidays, etc.
What supplies will you need for that month?
Planning one month at a time helps you with your budget for school supplies. It gives you the freedom to adjust your school year as you go. Maybe your house gets hit with the nasty flu. By planning one month at a time you can easily adjust your schedule without that panic feeling that sometimes hits. It gives you all a little peace of mind.
I have a download for you that I hope will help you in your planning. Teach Your Kids Homeschool Planner 2019-2020! It's free to all subscribers.
The Teach Your Kids Homeschool Planner 2023-2024 Includes (49 pages):
A Year at a Glance
Monthly Calendar
3 Styles of Planning Pages (including one for co-op planning)
Weekly Schedule to design your days
2 Guided Journaling Pages for you
Plan for Success (high school credits)
Road Map (track top 3 goals for the year)
Special Dates
Student Attendance Tracker (for co-op)
Student Grade Tracker (for co-op)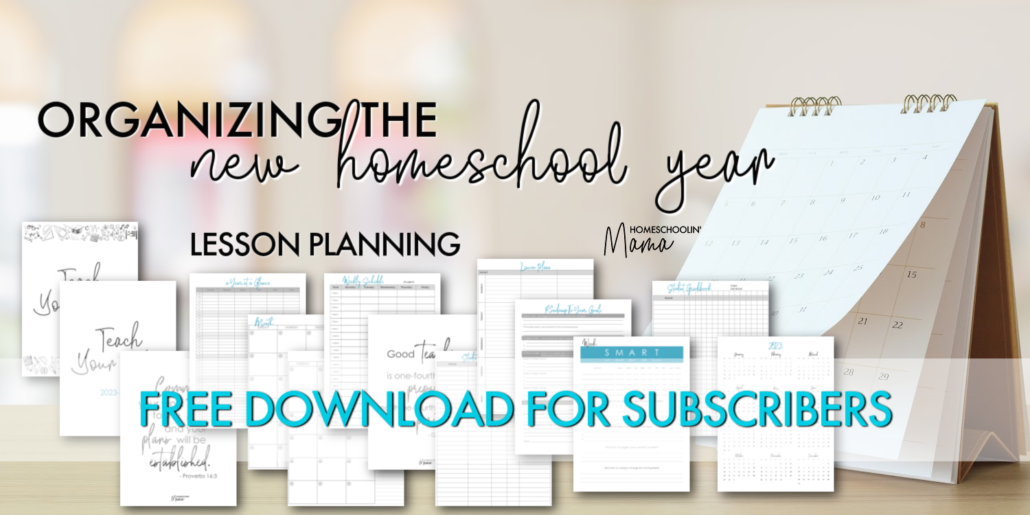 Join me on Monday as I share our Letters of Intent. Plus – check out the entire series here. Be sure to subscribe so you don't miss any of these upcoming articles: Subscribe to HomeschoolinMama.com
Love Life, Love God, Live For HIM…