Hello All You Homeschoolin' Mamas and Welcome!
I am so thrilled you've stopped by! I'm very blessed to be a Stay-at-Home Homeschoolin' Mama! It's wonderful and challenging all at the same time! Join me in sharing the journey of Home Educating our kiddos! Take a look around, visit our Sponsors and Affiliates and of course join in the conversations! If you're enjoying yourself, why not subscribe to my
eMail
and make sure you don't miss a thing? Love Life, Love God, and Live For HIM ~ Meg
Fruit of the Spirit
Peace
Peace.  It's something every one of us is seeking.  Peaceful, calm, tranquil lives is a desire we have.  But life happens and we quickly loose that peaceful feeling.  It vanishes when someone wrongs you.  Gone when you're hurting.  Lost when life turns upside down.
Peace is one of the Fruits of the Spirit for a reason.  God knows we desire it and He wants us to have it.  He desires to give it to us.
I struggle with having that peaceful spirit about me.  When things go wrong or hurt I tend to allow myself to dwell on it and remove myself from the one who an calm me.  I want to fix things or handle it myself instead of placing my frustrations before the Lord and allowing Him to calm my heart and mind.  I'm impatient.  When He doesn't "fix it" or calm me (in a blink of an eye) I dig into that uneasy and angry feeling.
In these 5 verses we will take a look at what God is truly wanting in our lives – peace.  He's going to show us that He has it waiting for His children all we need to do is ask.
Simply click on the image below and download your Fruit of the Spirit Study: Peace to join in.  I'd love to know your notes and take-away's from today's study – comment below or on the posts on Facebook and Instagram!
Click the image below for your Fruit of the Spirit Study: Peace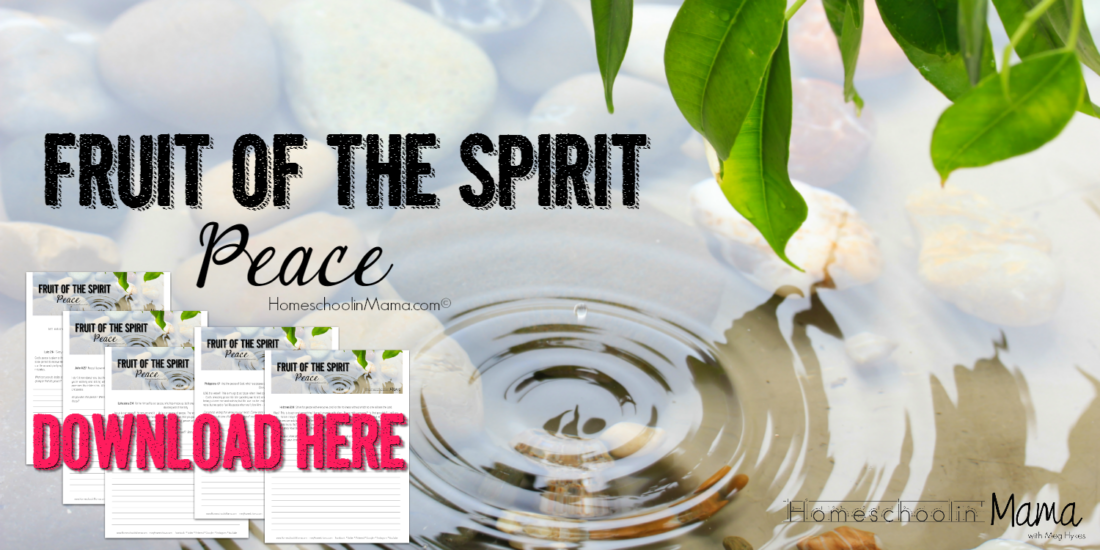 You can find the entire Fruit of the Spirit Bibles Study on it's dedicated page.  You'll find links to each of the blog posts with the free downloads for you there.
Love Life, Love God, Live For HIM…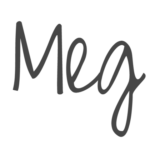 Working From Home When I first became a Mom I was so excited (and a little nervous) to stay home and raise my daughter.  I didn't want to send her off to daycare and just see her in the evenings and weekends.  I was also fortunate enough to have a husband completely on board with it and able to support us on his salary alone.  Not everyone is this fortune and I do count that as a major blessing in {Read More}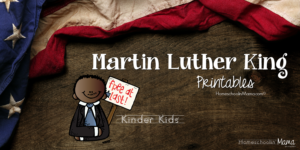 Martin Luther King Printables Monday, January  16, 2017 is Martin Luther King Day.  A day to remember this great man, a peaceful leader in Civil Rights here in the US.  These are some of the resources I have created and use with my girls in our homeschool. 12 pages of research and writing fun! Bio Page  –  Get to know Dr. Martin Luther King, Jr Famous MLK Quotes  –  Record some of his famous quotes that move you. MLK's I {Read More}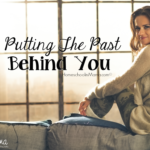 Putting The Past Behind You When you are hurt or feel like you were wronged by someone it can be truly difficult to get past it.  I feel like the closer you were with that person the longer it will take. Somewhat like a grieving process because the relationship is now dead.  Maybe that's just me though. I've mentioned before that I was let go from my job last year.  To be honest with you, in the beginning I was {Read More}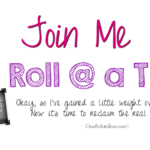 Join Me This Year At OneRollataTime.com It's the beginning of January – a whole new year awaits us!  Most of us are making resolutions/goals/plans for this awesome year that's ahead of us.  But how many of us will keep to it?  What derails you?  What holds you back? Maybe we just need to form a community that will help keep us on track.  Help us stay motivated.  Help us not raid the cookie jar when we're having a tough day! {Read More}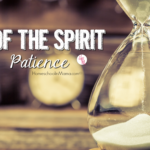 Fruit of the Spirit Patience Oh how I wish this was something I was blessed with.  Something that came easy to me. Unfortunately… I am definitely lacking in this department.  My mouth tends to move faster than my brain and that always gets me in trouble.  Yep – seriously lacking it here. Ironically, when someone first hears that I homeschool my girls the (9 out of 10 times) that person says, "Oh I could never homeschool my kids.  I don't have {Read More}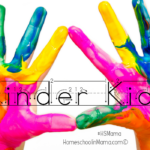 Kinder Kids Printables Now Have Their Own Page Well it's about time right?!  The Kinder Kids Learning Packs now have their own page where you can quickly find that resource you need!! Find everything you need for your kindergarten students with just one click.  Individual Letter Learning Packs or buy it bundled and save BIG!  Daily Notebook, Monthly Reading Log and even Letter Flashcards.  Plus I will be adding to the Kinder Kids Printables every month in 2017!!  So be {Read More}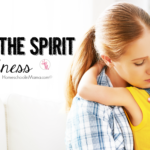 Fruit of the Spirit Kindness We are called to be kind to EVERYONE.  Not just those who are kind to us.  That would be the difficult part – being kind to the unkind.  It's super easy to return a smile or kind word.  But to give the smile to the dirty look or speak love to the mean words is a massive challenge. Following God is not the easy route in life here on earth.  We know it won't be.  Be we {Read More}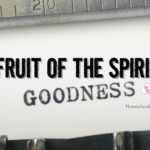 Fruit of the Spirit Bible Study Goodness Goodness is not a passive quality.  It's a deliberate choice of right over wrong, the firm resistance to moral wrong/evil, and choosing to follow all moral good.  It's not the easy choice for sure, but it's the right choice. With more than 25 verses in the Bible about good or goodness it was a little more difficult to choose which ones to dig into.  I've chosen 5 for this study but I have {Read More}