Color the Scriptures & Monthly Calendars Coloring Page Bundle
If you're like me you are more than ready for 2020 to finally be over. What a mess! Shutdowns, sickness, it's all wearing on our mental health. 
I know, we're homeschoolers and much of the world thinks THIS is our everyday life. But we know it's not and we are struggling too.
I've spent more time in prayer this year than I ever have. Prayer for guidance and pleading for deliverance. It's just all so overwhelming. But I'm tired of being overwhelmed and sad. I need to change my focus.
This made me think that I can't possibly be the only homeschool mama that feels this way. What if we all shifted our focus? Could we commit to putting our focus back on God and His Word? What if we chose to bring our kids into this plan too?
If this year has taught us anything, it's that we will never know what will happen next. The only thing we do know is that God is in control and that His Word never changes. Digging into the Bible and committing it to memory is something we can focus on and ultimately change our world around us. 
I've created 52 coloring pages with a new verse on each one. One coloring page per week in 2021. By the end of the year, we will memorize 52 new verses and our focus will be back where it should be, on God!
As a bonus, I'm offering my Calendar Coloring Pages FREE (with the purchase of the Scripture pages) from now through the end of 2020! 
Print them out (I like to use a heavier weight paper for coloring or planner pages) and create your own journal/devotional/planner for 2021. Create one for your kids and memorize scripture together!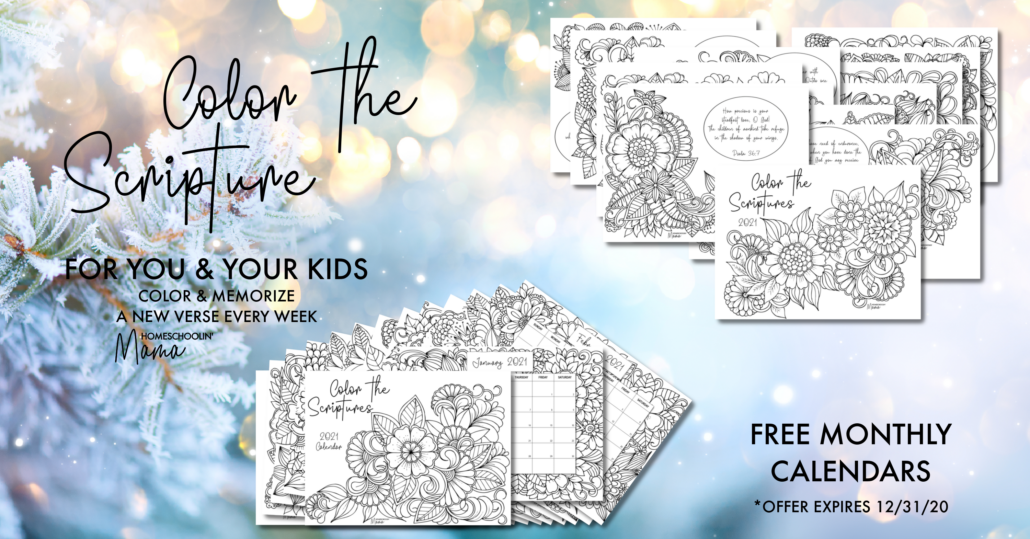 I hope you enjoy these coloring pages as much as I am. I'd love to see your work! Tag Homeschoolin' Mama on social media or tag us with #HSMama #ColorTheScriptures
Love Life, Love God, & Live For Him…