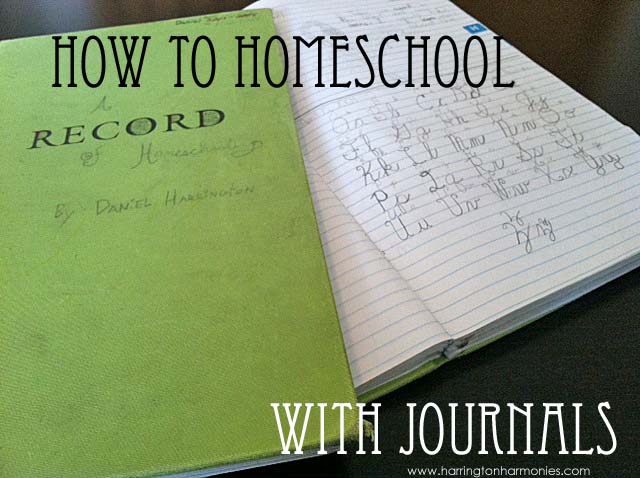 I am a homeschoolin' mama of more than ten years now. My homeschool has evolved over the years based on our circumstances and the needs of my children. I have used many different curriculum and methods. All of them were good for the times we used them and looking back now I see that homeschooling is more about the process than the materials. It is also a journey.
My fondest memories of that journey are from when we were using homeschool journals. I want to share with you what a homeschool journal is, how we used these journals in our homeschool and why I feel they are a wonderful option for moms with creative and expressive children.
What is a homeschool journal?
Homeschool journals were where we recorded our learning. Any lined notebook would work for this. But I chose to use hardbound ledger books because they offered us lots of space for both illustrations and writing. Plus they were practical and very durable.
For the years we used these journals we used no set curriculum with the exception of math. I know, it sounds radical. But I had two expressive and very creative children, both very intelligent and good readers and writers. I had also just had a baby. So I really wanted something that took the difficulty out of homeschooling for me. A structured curriculum just seemed so overly demanding for our military overseas lifestyle. I needed to find the joy in the homeschooling. At the same time I was reading up on other teaching methods, such as Charlotte Mason, to help my ADHD child.
These wonderful journals were actually my husbands idea. He knew I had my hands full and offered me a solution for my overwhelmed heart. The idea for a new approach to our homeschooling was born: The Homeschool Journal.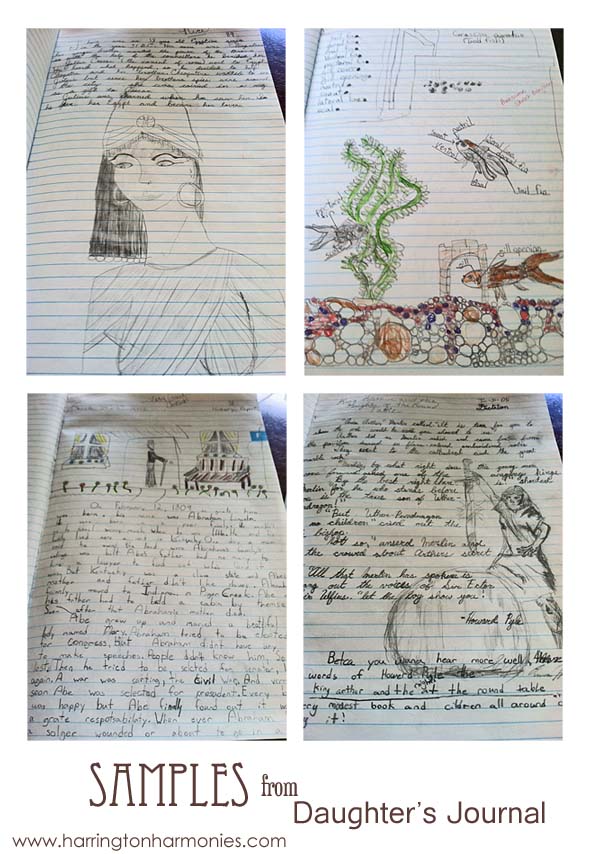 How to use a Homeschool Journal
We basically used these journals for anything we explored in our learning. Every other week we switched from a history topic to a science topic. The kids picked a topic, researched it and wrote about what they learned. They also read wonderful literature and wrote book reports. In addition, they sketched and did wonderful illustrations as I read aloud to them at night. They often begged to stay up so they could keep drawing while listening to the stories.
Other types of entries were fictional letters, themes, dictations and narrations, vocabulary words, state reports, science lab entries, nature study entries, poetry and more. I gave them a format they had to follow for all their entries and a rubric or checklist for editing. Most of the entries were not graded but were given feedback of some sort. For each entry they had to:
· add the date
· give it a title
· specify the type of entry (book report, etc.)
· add a bibliography (if research report)
There really isn't a limit to the types of writing, topics, and subjects that you could cover in a homeschool journal. Every homeschool could apply their own guidelines and style to their journals.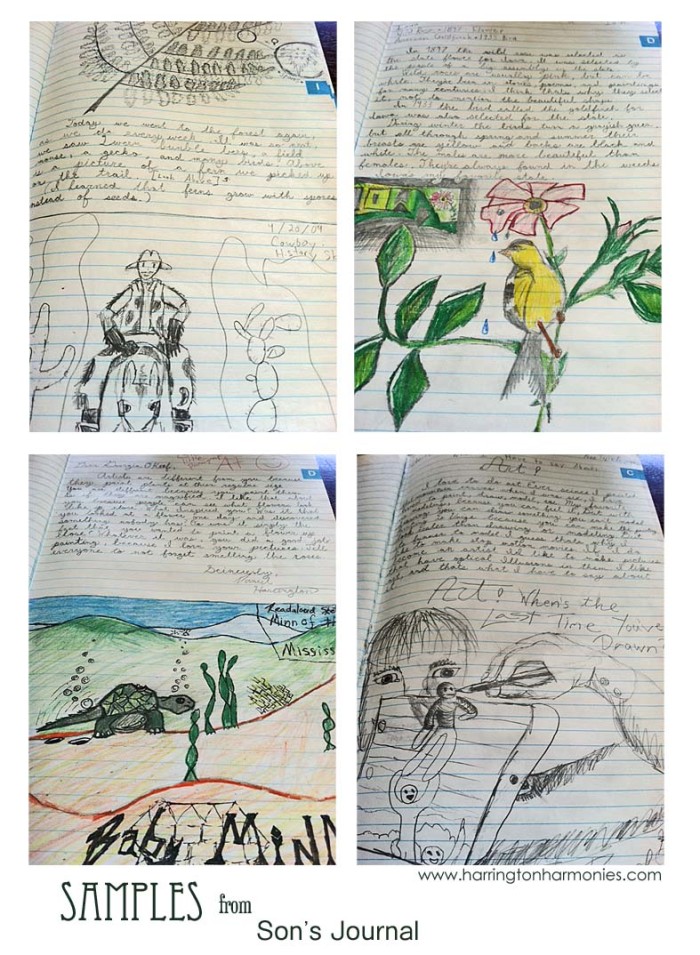 Homeschool journals are great for creative learners.
My two oldest children were both creative learners. By that I mean they always wanted to express themselves. I know this isn't always the case. My youngest child doesn't particularly like writing and often doesn't know "what to write about". He also doesn't much like drawing. So this type of journal I don't recommend for someone like him. But I do recommend this for very expressive and artistic children.
In order to use journals in this way children should be able to read and write fluently. Otherwise the idea would be very frustrating. It is perfect for a relaxed homeschool, unschooling, or a delight directed approach. It also proved to be good for providing a transition from the end of elementary to the beginning of high school, preparing them for writing papers by doing mini reports and small research papers.
Over time they became wonderful and compact records of what we did during the middle school years. Just the one journal represents 2-3 years of our homeschooling. To this day they are one of my most treasured possessions and the time of homeschooling I most enjoyed. I love looking back at the good times we had exploring life together and the joy it brought our experience.
Do you, have you, or would you like to use journals in your homeschool? What types of writing would you have your children do? How would you integrate the other subjects?
Stephanie has been a military spouse for 17 years and has homeschooled for 11. She is mom to three creative kids from college grad down to third grade. Her homeschool style is eclectic with Charlotte Mason and classical influences. She and her husband of 21 years serve and live wherever the US Army sends them. When she isn't teaching, writing or moving she enjoys sightseeing, gardening, and cooking. Visit Stephanie on her blogs, Harrington Harmonies & Nature Notebook and on Facebook, Twitter & Pinterest.