Mama Sets The Tone
We all do it. Wake up in a bad mood. One thing goes wrong (or maybe it's the twentieth thing that day) and our attitude is shot. We snap. Our husbands never see it coming. Our poor kiddos have a Mom who snaps at them.
Have you ever noticed how the attitude of your home changes? Have you noticed it tends to change with your attitude?
It does. Trust me. A few months ago I was really struggling with my own attitude. Nothing seemed to "go my way" and on top of it all it looked like my family had lost their minds all around me. My thought was "How is it that my kids seem to act out at the worst time for me to handle it best?".
Maybe, just maybe it's not my kids attitude that needs to change – maybe it's mine?
I was studying my Bible and I read Philippians 2:14-15 and it hit me – I can only control my own thoughts, action, and attitude.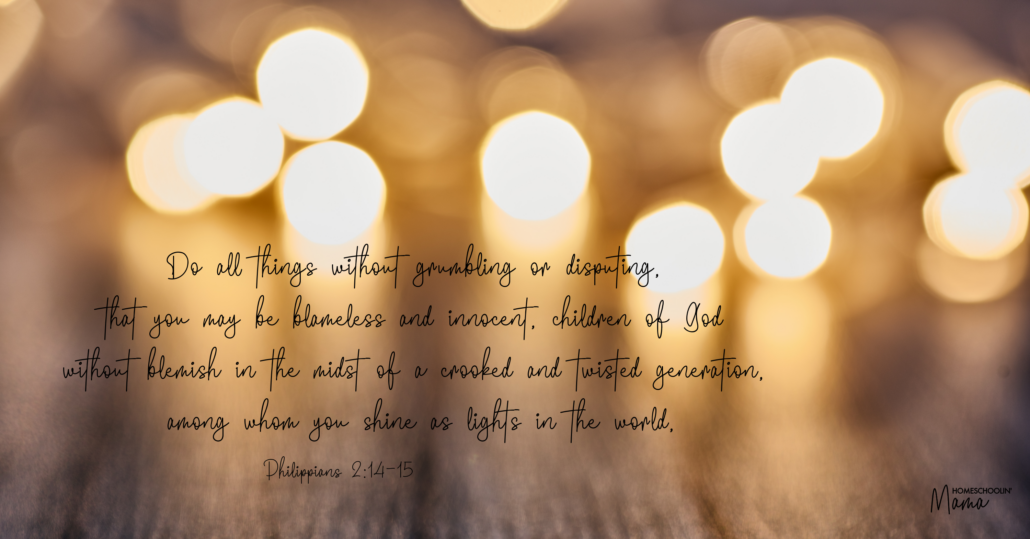 Now, this is something I have said to my girls for… well forever it seems. But I never really applied it to myself I guess.
I've allowed the stress and attitudes of others around me to change my attitude and how I look at things. Which then was changing the tone of my home. Not cool.
So I started paying attention. Close attention. When I was in a good mood and keeping my focus on Him, my home did the same thing. My girls were more loving and attentive to each other. Our school day went smoothly. When I was struggling to see The Light our day would be crazy and overturned. I would finally get the girls in bed and my husband would fall asleep and I would lay in bed and cry wondering where the day went so wrong.
Mama Sets The Tone. Good or bad – Mama sets the tone of her home. Scary to have such power but we need to be aware of it and have an action plan. Here are five ways I change my attitude and it really has changed the tone in my home.
5 Ways to Change Our Attitude
Start your day in prayer and in the Word. When we begin our day saying "Lord show me your way. I give you this day." we are setting our day up for success. It no longer becomes all about us and what we think we want for our day (our lives) but we are now focusing a much greater image – Our Heavenly Father.
Get your blood pumping. Now I am by no means in "good shape" or some kind of fitness expert. I write about my struggles with trying to lose weight and live a healthy life on my other site OneRollataTime.com. But I have found that when I work out for at least 30 minutes my attitude is amazingly better. I'm not saying you need to run out and buy a gym membership or anything. I don't have that either. Take a walk, do a fitness video at home, or even a yoga video. Just get your blood pumping and it pumps up your mood.
Eat just a bit of chocolate – dark chocolate. Okay, I know that may sound crazy, and like I'm completely going against #2 here. BUT studies have shown that chocolate (dark chocolate at least) can improve your memory and your mood. So why can't it help you remember the good in your life and help you change your mood? It's worth a try, right? In keeping with moderation and not overdoing it (so that my mood doesn't change again because I have now overeaten) my girls and I have started having a 1/4 serving of a Theo Classics Salted Almond Bar around 3 pm. Yes – it's a great little pick me up!
Keep a Journal. This has helped me so much. I keep a journal of my day (the good and the bad), Scripture that touched my heart that day, and people/situations I am praying for. This will keep your focus not only on how your day actually went but on what is important – God's Word and others who need us to pray on their behalf.
Worship Him and Him alone. Something new to our home is the amount of worship music I have playing. It's nearly constant. I turn on my Pandora worship channel and let it play from breakfast on. I turn the volume down a bit for school time but hymns are a piece of beautiful background music for this. But we definitely have Toby Mac and Newsboys blasting during our "free time". Sing it out and dance about for the King of Kings.
Mama – It's time to focus on ourselves, our attitudes. Let us change ourselves so that we can change our homes.
Love Life, Love God, Live For HIM…