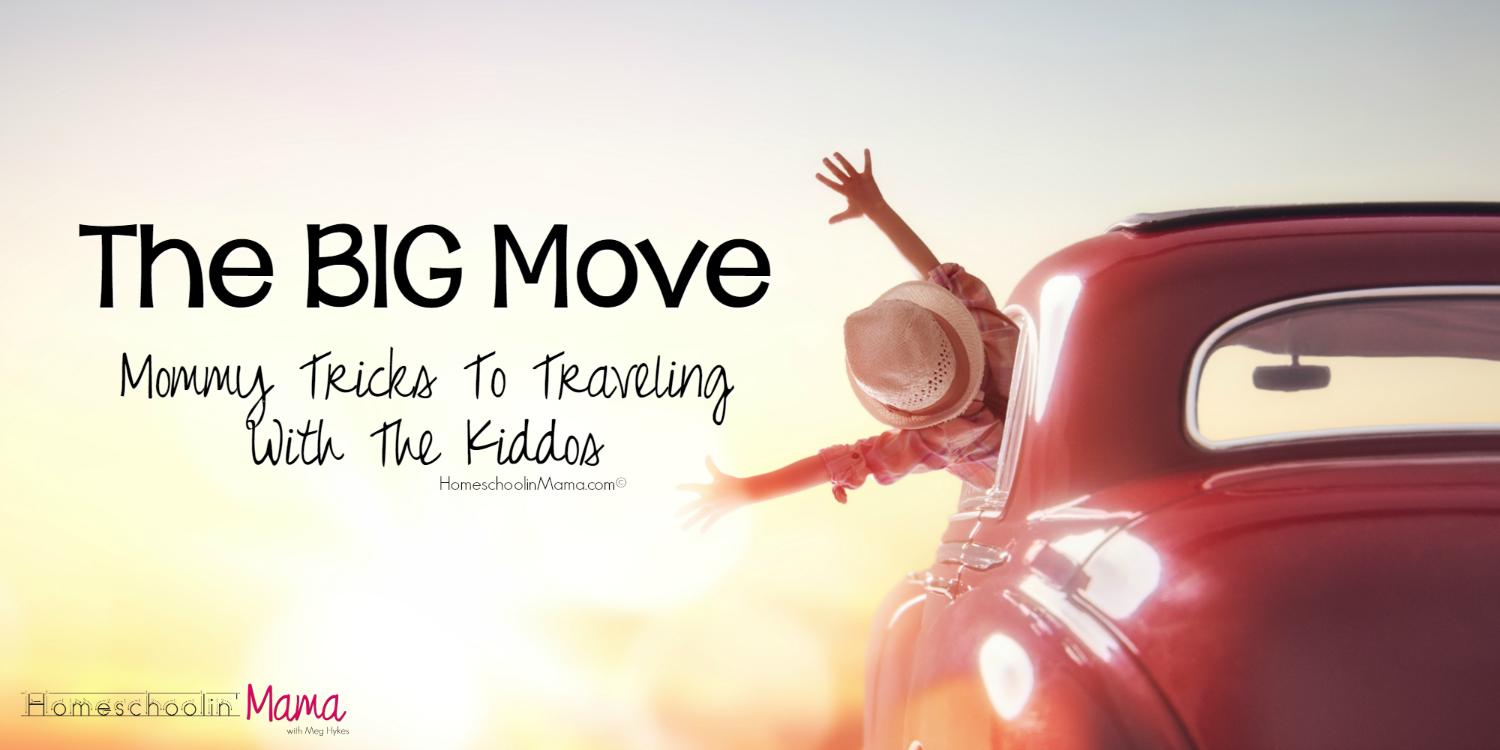 The BIG Move
Mommy Tricks To Traveling With The Kiddos
This move was a big one!  I mean a BIG one – 821 miles on the road with a 5.5 year old and a 6 month old who still only nurses!  So, YES, I was a little nervous to get on the road and be on my own in the car.
Our last few hours at the old house were very sad ones.  Roo was crying because she was leaving her best friends behind.  Which then made me cry.  I get so worried that we could be really messing her up with all these moves.  I truly pray that we aren't.
We ended up leaving the house later than we had planned.  I like to make sure the house is cleaner than when we moved in, and I guess it just took me a little longer than I had expected.  So we loaded up the kids in the car, about 8:00pm, along with their special "travel bags" and a bin of movies and off we go.
Getting On The Road
I don't like the kiddos to watch much TV at home.  But I will admit that when we are on a long road trip, like this, I do allow extra movie time.  But I have a schedule for it and I stick to it: For every one movie in the car they need to take a 2-3 hour break (longer if they don't notice).  The break time includes: singing time (PurNRG is a huge favorite in our car), Roo reading to us (a new treat for this move) and the Leapster (this one is a total life saver).  Not to mention toys/dolls playing time.  Then we start it all over again!  We also spend a lot of time discussing how to decorate her new room.  Roo is quite the fashionista (and talker), so this usually goes on for quite a while.
Before any long journey I like to set my girls up in the back seat with all their travel supplies close at hand.  The list is as follows:
a small bin of movies
a special "travel bag" for each one with crayons and coloring book, a couple of small dolls (but not to small that you won't notice if they fall out of the car)
the Leapster and games
a few books of Roo's choice!  I have to say story time in the car was my favorite part of this trip.  I love listening to her read to me!
With having the baby, and only being able to nurse her, we made a few more stops than usual.  So the first night we drove for just 3 hours and then stopped at a hotel.  We try to keep things easy for the girls. You know, make it a new adventure for them!  So when we get up at the hotel we bring the continental breakfast back to the room.  Roo thinks it's the greatest thing in the world that she can eat breakfast in bed when we're on the road.  Ha, I love how easy 5 year old can be some times.
Keep It Fun
Friday was all day in the car, singing and playing with a little movie time thrown in, and then another late night at a hotel.  Saturday morning was the same kind of thing (breakfast in bed) and then on the road one last time.  Getting us to the new house by 5:00pm.
I was a little disappointed though.  In the past we always had Roo get some pool time in before bed.  It was always a great way to burn up some energy.  But with the later starts and stopping to nurse and potty breaks we were not able to do that this time around.  However, we did keep to having Roo run a few laps and do some jumping jacks before loading up in the car for the day.  Actually we do this at each rest stop we take too.  I think it's so important to let them go a little crazy each time you stop.  She loves when you give her points to stop at and then give her something to do.  Like: "Run to the second tree then stop and shake your groove thing to the front and then to the back."  We usually get some crazy looks but hey, my kids are happy, healthy and FUN kids!  *Homeschool Note: I also use this in the house as a "break" on days we can't get out side.*
For Boo, since she's only 6 months, I think it's important to get as much cuddle time in as possible.  She's not used to being "untouched" for that long.  So these breaks become our little cuddly snuggle time!
So far this seems to work very well for us.  Throw in a few granola bars and a special Hello Kitty Thermos with water and we are set.  How could I forget!  I also like to have a little something new waiting for Roo on her night stand in the morning.  This time it was miniature TinkerBell Dolls (one each morning).  That way she has something new and exciting to start her day off.
How Do YOU Move?
This is how our family makes our big moves.  Each time we tweak it a bit but mostly this is how it goes.  Now, don't get me wrong there are definitely stressful moments on the road.  Like when the baby just can't be calmed down because she wants to eat and there is no where to stop or pull over!
Yes, those times definitely happen!  But, I like to think that for the most part we have managed to make such big travel times into a fun time for the kiddos and maybe even us.  Well, probably not my hubby as he is stuck in the U-Haul by himself for the entire trip – poor guy!
I hope that you have enjoyed this little mini-series and maybe even picked up a few little tricks.
Love Life, Love God and Live For HIM …