God Will Provide
For those of you who know me, you know what the last few years have looked like for my family and I.  Move, move, moving!  We like to joke that we are doing an "East Coast Tour".
Starting in 2006 (not long after my oldest turned one) we moved from Ohio to Virginia Beach.  This was an incredibly difficult decision for my husband and I.  We were both born and raised in Ohio and we never really saw ourselves ever leaving.  Plus, we are die hard OSU Buckeye fans so how can we leave "The Buckeye State"!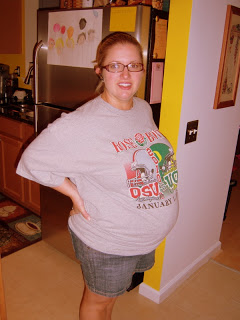 Yep, that's me very prego last fall but still sportin the OSU T-shirt for game day!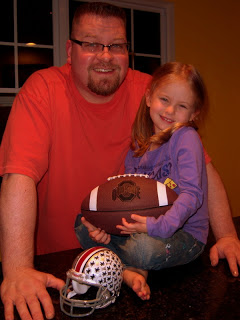 Our 5 year old loves them too! 
 But things happen.  Things seem to change whether you like it or not!
My family's business that my husband and I both worked at (well until I had our little Rachie Baby) started it's going out of business sale the day after I gave birth to our first kiddo in 2005.  There were so many disappointments that happened along with this.  But I won't go into all of that, I could almost write a book.
As you can guess, this is where the crazy stress filled moving life of ours began.  I was a hormonal first time Mommy, very upset that my Dad's store was closing after more than 25 years of business (due to the economy), and worried about what the future would bring to our newly growing family.
My husband started looking for a new job right away.  He initially took a sales job (commission only) but with the poor economy in Ohio, it did not make enough money for us to live off of.  So he eventually found another job in his field and this would take us on our first out-of-state move – Virginia Beach.  So many feelings and emotions came running through me about this move.  I was very excited to be moving to the beach.  I mean we were going to live less than 20 minutes from the ocean.  How great is that!!!  Also, it meant financially we would be much better off.  But it was a move out of state and we wouldn't know anyone there.  So we made the move and there we were, Virginia Beach was now home.
Thankfully I found some wonderful friends that really made it feel like home very quickly for me.  I will love them forever for that!  But a little over a year later the company my husband worked for closed it's doors (with no notice) and because it went bankrupt they did not need to pay any of it's employees their last checks.
Here We Go Again
So, there we were again, looking for another job.  It took only a few months but it was yet another out of state move, this time to Knoxville, TN.  Unfortunately though, about a year later we found ourselves leaving Knoxville, our friends and a wonderful church again.
That brings us to another job search and another relocation. This time to New York, our current (for the moment) state we call home.
WOW is New York different from the mid-west life we grew up in!  But we are once again blessed. New York has brought us some wonderful friends (especially for my daughter – twin girls as neighbors – can't beat that) and a wonderful church.  We are incredibly sad to be moving away form all of them.  Oh yes, how could I forget, most importantly New York brought us baby #2 (but we're taking her with us – lol).
Once again we find ourselves needing to find a new job.  Once again a new job is taking us to a new state – Chicago, IL.
This move has many upsides for us though.  We already know the area some and love it, it's the mid-west again, and this job sounds fabulous for my husband.  PLUS my sister lives there!!!  So I'm definitely looking forward to the move and praying that it is our last.  Well, I should say I'm looking forward to after the move – not the actual move.
With all that being said – I'M TIRED!  I'm tired of moving!  I'm tired of starting over!  And at the moment I'm tired of looking for a place to live.  We are expected to move by May 21st and we still have not found a home!  To say I'm stressed would be a MAJOR understatement!
My "To Do List" seems to get longer and my time is getting shorter.  Some days I will admit, I am completely overwhelmed by all of this.  Some days it all seems just to much to take.
Turn To His Word
But, I have two Bible verses that I recite over and over to myself.  I even have them posted on my fridge.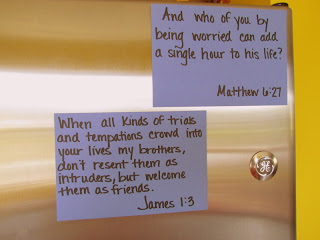 These verses have helped me through so many of my stressed filled days.  I am so grateful for God's Words!
Now that I have poured out so much of the negative side of my life, let me explain to you why I am spilling it all!  I'm not just venting here.  I really do have a point to all of this!
Everyone has something they are going through at some point or another.  Life is not perfect and it's never going to be – and that's okay!  It's how we handle it that makes us who we are.
As a Christian we know that we are to give it to the Lord, focus on Him and walk closely with Him so that He may show us His will for us.  We were never meant to do this thing called life all on our own.  We were made to want to be with God, to want to know Him – to CRAVE Him!
Just knowing all of this does not make it easier in any way.  Not at all!  I am constantly trying to remind myself to refocus, bring it back to Jesus and some days I am not as successful as others.  I am sharing all of this in hopes that some one who needs to hear this, all the struggles but yet still complete faith in God, will read this and have hope.  That it will work as a reminder to them to keep (or put) their faith in God.  To rely on Him and Him alone!  But also to know that you are not alone in your struggles.  Plus, it's a great reminder to myself on those difficult days.
Some things that have always helped me are:
Reading my Bible; whether it be doing devotions, a study or both.  I ask God to show me what He wants to teach me.
My Church; we have been blessed with several wonderful churches along the way.  Singing and fellowship with a congregation is absolutely uplifting to me.
Praying; give it all to HIM!  Be honest and don't leave anything out, He can take it!  Plus, He already knows!
Talk about it!  Now, I don't mean sit and vent and fume and "Oh, woe-is-me".  That's not healthy for any one.  No, I mean let people know you are not perfect.  You are a work in progress.  You have no idea who you could be helping just by sharing what you're going through or have gone through.  Let them see how God is working in your life.  Let God shine through you and your life to others!
Love Life, Love God, Live For HIM…